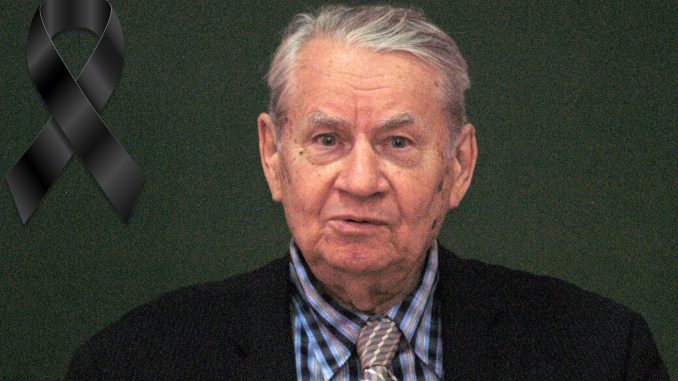 Dear all,
The greetings for the holidays of this end of the year and for the New Year 2019 come to you with very sad news: Academician Professor Constantin Corduneanu, Interim ARA President, left for another world last night around 10 pm…
He touched so many lives, so many souls in his passing through this world. He left a legacy by his example and encouragement for dedication to creative work, to a work well done, for an honest life.
He published several books and left with the regret of a dreamed book he still wanted to write; some of his students, now professors, might be able to do it in his memory. Many of them were around him during his last day as an extended family. He left, dedicating until his 90th, as nobody else, his energy and effort to maintain the American Romanian Academy of Arts and Sciences (ARA), at the highest academic and moral standards and to protect it from failure. All of us, members of this Academy, need to be inspired by him and able to continue his effort to succeed. Inside of ARA he started and continuously published himself for more than 30 years the journal of Libertas Mathematica. Only few years ago he transferred this responsibility to another mathematics professor, the editor of the Journal. The 2018 Libertas Mathematica issue dedicated to the 90th anniversary of Professor Corduneanu is published online.
The Constantin Corduneanu Award for the best paper of the year in mathematics should be created in his memory and honor and be presented at the annual ARA Congress with the recommendation for the paper to be considered for publication in Libertas Mathematica.
Academician Professor Constantin Corduneanu, is a full member of the Romanian Academy . He is well known by his peers, who honored him at his 90th anniversary by symposia at two Sections of Mathematics of the Romanian Academy, in Cluj-Napoca (April 2018) and in Iasi (September 2018) and also at the University of Ekaterinburg Russia (on July 26, on his birthday). He was honored by the ARA 42nd Congress in Iasi at the opening reception on August 27, 2018.
May God forgive him and rest his soul in peace!
——————-
Dear Members of the American Romanian Academy of Arts and Sciences,
Ladies and Gentlemen,
I have been deeply touched when I have learned (this morning of December 28, 2018) about Academician Constantin CORDUNEANU's passing away. Let Good LORD rest him in peace !
His departure represents a heavy loss for the Romanian as well as World's community of mathematicians. Thousands of his former students and PhD students, here in Romania, in the USA and in other countries, admired him for the very high level of his lectures, for his generosity and for the way he helped younger researchers in mathematics to improve their creativity and to publish valuable research articles, PhD theses, monographs and textbooks. I had the chance to be one of his students (in my second academic year at the Faculty of Mathematics of "Al.I. Cuza" University of Iasi, 1961-1962). I remember the clarity, elegance and rigour of his lectures of Differential equations. Even during his academic and scientific career carried on in the US, he continued to keep dynamic contacts with his colleagues from Romania. I remember his interviews broadcast by Radio Free Europe; in several of them he spoke about the Romanian mathematicians and their work developed in Romania, in Bassarabia (now Republic of Moldova) and abroad, about the "Al. Myller" Mathematical Seminar of the Iasi University which was an actual nest for the Iassi's school of Mathematics.
Last but not least, I remain indebted to Academician Professor Constantin Corduneanu for the way he encouraged me to participate in the latest two editions of the ARA Congresses (ARA-41, Sinaia – August 2017 and ARA-42, Iasi – August 2018).
Let me close this sad message by citing a fragment of the mail just received from ARA-AS Info:
He touched so many lives, so many souls in his passing through this world. He left a legacy by his example and encouragement for dedication to creative work, to a work well done, for an honest life.
All of us, who knew and admired him, must (and shall) pray for his eternal rest in Heavens.
Assoc. Prof. Dr. Alexandru Carausu, "Gh. Asachi" Technical University of Iasi
——————-
Ne-a parasit Academicianul Constandin Corduneanu.
Domnul Sa-l aiba in Pace!
Dumezeu Sa-l ierte!
A plecat din veata UN OM! Un om de omenie, de onoare, de credinta si de putere!
Sa-l pomenim vesnic!
Prof. Dumitru Todoroi
Academy of Economic Studies of Moldova · Information Technologies
Chisinau, Moldova
——————-
Necrolog publicat în Monitorul de Botoșani nr. 295 din 28.12.2018.
Constantin Corduneanu
(1928-2018)
În ziua de 26 decembrie 2018 s-a stins din viață academicianul Constantin Corduneanu, una dintre marile  personalități ale științelor matematice ale sfârșitului secolului XX și începutului secolului XXI.
Constantin Corduneanu s-a născut la Iași, în 28 iulie 1928. A absolvit strălucit secția de matematică a Facultății de Științe  a Universității din Iași și a urmat de la început cariera didactică ajungând unul dintre cei mai tineri profesori universitari.
În perioada anilor 1964-1967 a coordonat colectivul care a înființat învățământul universitar de stat la Suceava. Profesorul Corduneanu a avut o intensă activitate de cercetare științifică și a devenit membru al Academiei Române din anul 1974
În anul 1975 profesorul Constantin Corduneanu emigrează în SUA. Aici continuă cariera științifică și universitară, la început ca profesor la Facultatea de Matematică a Universității statului Rhode Island și, după 1980, profesor la Universitatea Arlington din Dallas, deținând mulți ani și funcția de președinte al Societății de Matematică a statului Taxas.
Într-o carieră didactică impresionantă, Constantin Corduneanu a pregătit peste 7000 de studenți (4000 în România și 3000 în SUA), a scris 6 tratate de matematică și a ținut conferințe în peste 60 de universități și academii din diferite țări.
A fost mulți ani președinte al Academiei Româno-Americane și a fost mentorul  revistei "Libertas Mathematica", apărută în peste 40 de volume, revistă care a fost o rampă de lansare pentru matematicienii români în exil.
După 1989 a revenit în țară în fiecare an, fiind un oaspete onorat al mediului academic și al mediului universitar ieșean. Din această postură a devenit inițiator și membru fondator al Fundației Academice "August Treboniu Laurian" din Botoșani, fiind ales  Președintele de Onoare al acesteia.
La înființarea Fundației Academice "August Treboniu Laurian", în ziua de 7 mai 2016, în Aula Colegiului Național "Laurian", în prezența a peste 40 de cadre didactice de la facultățile ieșene, a unor academicieni din țară și din Republica Moldova și Ucraina dar și a multor personalități locale din diverse domenii, profesorul Constantin Corduneanu  a ținut o pledoarie cu argumente din domeniile economic, social, educație și geopolitică pentru necesitatea și oportunitatea înființării învățământului universitar de stat la Botoșani.
Este motivul deosebit pentru care, alături de mediul academic și universitar din România, membrii Fundației Academice "August Treboniu Laurian" din Botoșani regretă profund dispariția distinsului profesor, căruia îi vor păstra o frumoasă amintire.
Fundația Academică "August Treboniu Laurian"
Președinte,                                                             Președinte executiv,
Prof. univ dr. Mircea Rusu                                 ing. Florin Egner
——————-
Dragi  prieteni,
Am primit vestea la Iaşi ca un trăsnet care a lovit în toti.
În a treia zi de Crăciun am pus la cale o întîlnire între noi prietenii dragului nostru magistru. Este vorba de acad. Radu Miron, Prof Miki Rusu,Prof Sălceanu, Prof.Gelu Popa şi subsemnatul. Am rezervat un local la Castel. Era o întâlnire care recupera o alta cu Dl Acad.Corduneanu. Ne vom reprograma întîlnirea şi acum ne lăsăm timp pentru lacrimi adevărate. La noi la Iaşi este multă durere şi senzatia că de acum înainte vom fi  mai nefericiti.
Eu am terminat o carte  Intitulată  "Din pioneratul politicii postdecembriste" şi acolo sunt două fotografii, una a dlui Acad. Corduneanu şi una a lui Dan Hatmanu. Au murit in aceeaşi zi.
Contez pe Domniile Voastre în marcarea acestui trist şi ireparabil eveniment.
Cu triste salutări,
Constantin Simirad
——————-
O personalitate, un profesor cu elevi si doctoranzi, de peste mari si tari, cu care tinea legatura si continua sa colaboreze. Corespondam cu placere. A venit la alegerea actualului Presedinte al Academiei Romane. Dumnezeu sa-l odihneasca.
Moldova deci. Are D. D. Patrascanu o povestire cu un revelion glorios, cu un meniu fabulos, in gara la Pascani. Imi aduc aminte de poveste de cate ori trebuie inveselit momentul.
S-a despartit ferm de revista sa de suflet, Libertas. Imi spunea ca ramane in SUA, ca acolo se bucura de servicii medicale pe care le aprecia. Unde a survenit decesul, unde a fost inmormantat?
Calde salutari si urari distinsilor corespondenti, idei frumoase si sanatate.
Vaida Dragos
——————-
Profesorul Constantin Corduneanu s-a nascut in satul Potangeni, la Nord de Iasi. Margareta a facut cam un an naveta la Potangeni sa predea matematica la scoala din sat dupa ce ne-am intilnit la Arlington, cu Profesorii Corduneanu si Familia Dragan, aflind ca noi stim satul lui, Prof Corduneanu a trimis o felicitare frumoasa de Craciun cu o poezie scurta minunata.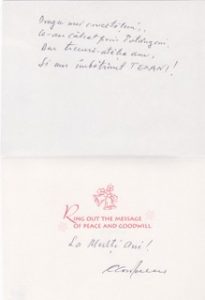 Totdeauna povestea cu emotie despre satul lui, isi amintea de vecini si alti oameni ai satului, si povestea cu emotie despre Iasi, Moldova si in general despre Romania.
La 90 de ani a mentinut o minte ascutita si un umor minunat. Glumea spunind ca e bine ca are probleme cu picioarele si nu la cap
un om minunat, un Moldovean cu adevarat Moldovean, asa cum este si Prof Irinel Dragan.
Nicu Tutos
——————-
De pierderea Acad. Corduneanu am aflat și din comunicarea Academiei Române.
Să ne rămână, la toți românii, ca o referință de viață, creativitate și omenie.
Odihneasca-se în binemeritată pace!
Constantin Bulucea